The highly anticipated Tesla Model 3 has finally landed. A more compact offering than the Model S, the Model 3 is firmly aimed at the premium compact saloon market, rivaling vehicles such as the BMW 3 Series and Mercedes C Class. Packing the latest technology, the Model 3's minimalist interior is unlike anything else on the market. With a range of up to 348 miles (WLTP - Long Range variant), and acceleration from 0-60 in 4.4 seconds, the Model 3 is at the top of it's game.
Volt-Age Electric Vehicle Hire, stock both the Long Range and Standard Plus Model 3's.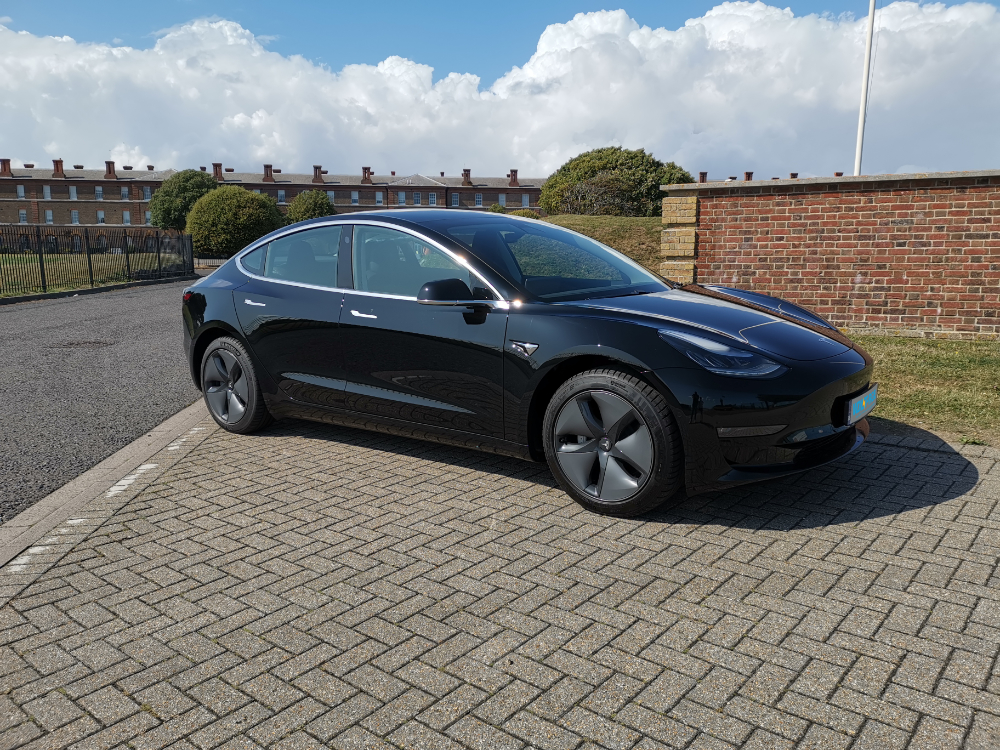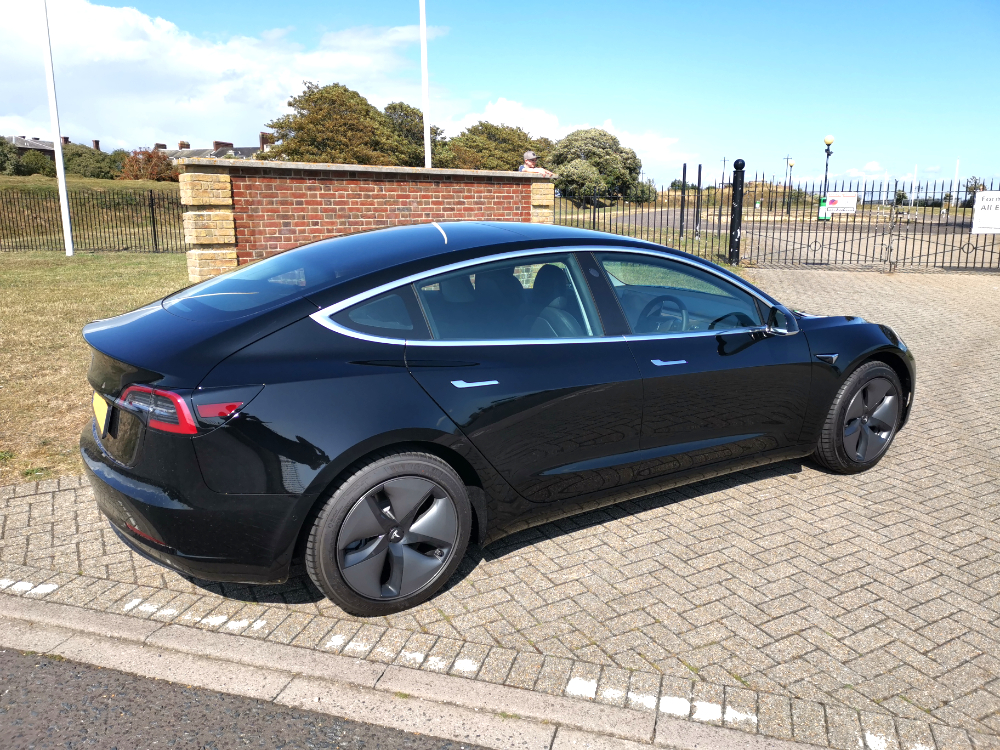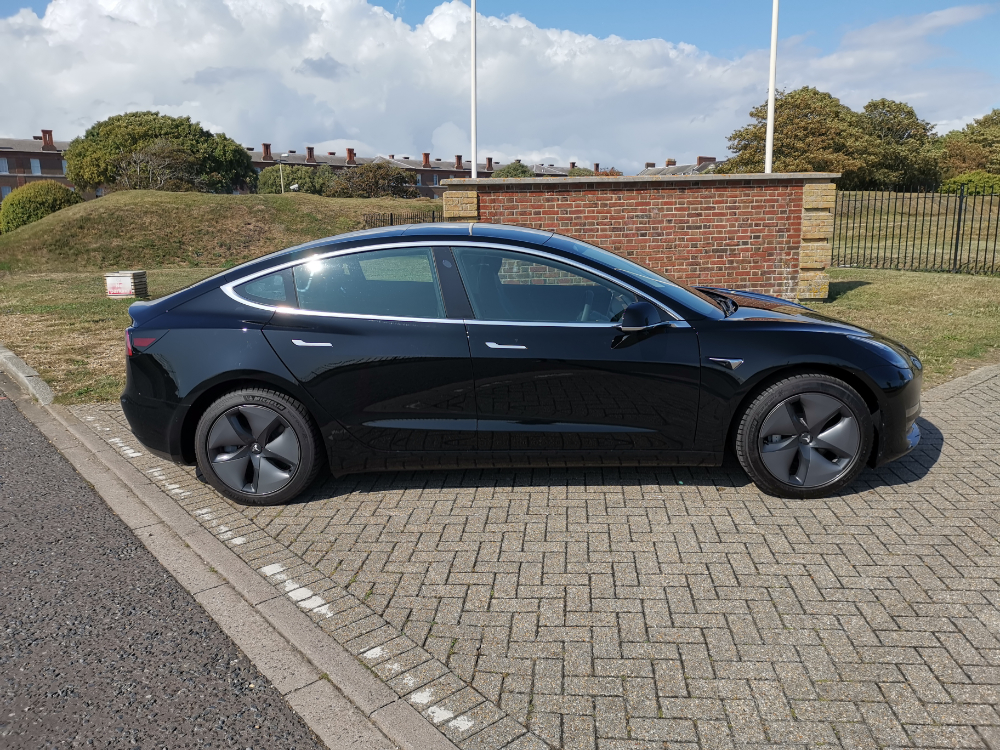 PRICING
INSURANCE TERMS AND CONDITIONS APPLY. PLEASE CONTACT OUR TEAM FOR MORE INFORMATION. PRICES BASED ON COLLECTION FROM AND RETURN TO, OUR HEAD OFFICE ADDRESS. DELIVERY AND COLLECTION IS AVAILABLE NATIONWIDE ON A POA BASIS.
STANDARD PLUS
THE TECHNOLOGY
The Touchscreen
The Model 3 offers an incredibly minimalist approach to the car interior. Virtually everything is controlled by the 15 inch touchscreen, which now has a landscape orientation, removing the need for virtually all physical buttons and controls. There isn't even a need for the digital instrument cluster dashboard! Key Features accessible and controlled by the touchscreen include:
Map
Simple, intuitive Google Maps™ with real time traffic information
Navigation
Smart routing that adjusts for real time traffic conditions
Energy
Real time energy consumption and range estimation
Phone
Bluetooth-enabled, voice controlled hands-free phone system
Internet Browsing
Internet browser capability for surfing whilst parked.
Media
FM radio and Bluetooth® connectivity, with on-demand & internet radio capability
Controls
Driving personalisation, climate controls, and cabin controls
Camera
High definition backup camera, optimised for visibility and safety
Calendar
Calendar synchronisation for daily schedule and tap to navigate
Dashcam
Recording to a USB memory stick/drive
Safety
The Model 3 is built from the ground up as an electric vehicle, with ultra high-strength steel and a low, solid centre of gravity. The Model 3 achieved a NHTSA 5-star safety rating in every category and subcategory with its energy absorbent crash structure, rigid passenger compartment, incredible side impact protection and one of the lowest rollover risks of any hatchback on the road.
Charging
Charging options are abundant with the Model 3. With the introduction of CCS as the standard charging port, not only can you charge on the Tesla Supercharger Network, but also rapid charge at any other station offering CCS. With costs on the Tesla Network costing around £15 for a charge, filling an equivalent 50 mpg diesel car would snatch £50 out of your hands. The Tesla Network also has the added benefit of not needing any app or RFID card, just plug in and the charge starts. The Tesla Supercharger network is available all over the U.K and Europe, conveniently positioned close to desirable amenities like restaurants, shops and WiFi hot spots. Each station contains multiple Superchargers to get you back on the road quickly.
We believe in Electric Vehicles,
We use Electric Vehicles,
We live and breath Electric Vehicles.
Volt-Age Electric Vehicle Hire want you to join the Electric Revolution, but know that joining isn't for everyone. By hiring an Electric Vehicle from us, we will offer you advice and support, so you can decide for yourself, whether or not your next vehicle purchase will be Electric.
OTHER SPECS
The Tesla Model 3 also features:
PREMIUM Interior
12-way power adjustable front and rear heated seats

Premium audio – 14 speakers, 1 subwoofer, 2 amps and immersive sound

Satellite-view maps with live traffic visualization and navigation

In-car internet streaming music & media

Internet browser

Location aware automatic garage door opener

LED fog lamps

Tinted glass roof with ultraviolet and infrared protection

Auto dimming, power folding, heated side mirrors

Music and media over Bluetooth®

Custom driver profiles

Center console with storage, 4 USB ports and docking for 2 smartphones
Safety
Active safety technologies, including collision avoidance and automatic emergency braking

HEPA air filtration system

Electric All-Wheel Drive for maximum efficiency and traction

Daytime running lights

Three-position dynamic LED turning lights

LED fog lights

Wiper blade defrosters

Washer nozzle heaters

Six airbags: head and pelvis airbags in the front plus two side curtain airbags

Electronic stability and traction control

Four wheel anti-lock disc brakes with electronic parking brake

Two second row ISOFIX attachments for child seat installations (accommodates three child seats simultaneously: two with ISOFIX and one with top tether and belt)
HIRE A TESLA MODEL S TODAY
Speak to the team at Volt-age if you'd like to make an enquiry. We will help you join the electric revolution!